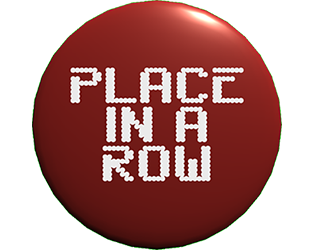 Place in a row
Based on the classic board game "connect four" / "four in a row" / "four in a line" / "Conecta 4" / "Cinco en linea", etc, with the difference that you can choose the number of inlined discs necessary to win.

You can play multiplayer or versus A.I.
Ai is better player than you, however it simulates a mistake for distraction every once in a while with the purpose of humanizing it.
---
Controlls

Keyboard:

Menus:
Gameplay:

Number keys -> Place discs in number column.
Escape -> Back to menu.
Enter -> New Game.